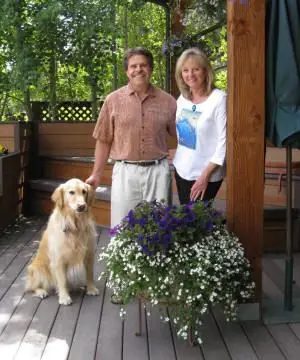 We first encountered Evergreen in July of 1989 while traveling through Colorado from California on our honeymoon. We were married for just one week and were looking for the ideal community to begin our life and Chiropractic practice together.

We found Evergreen enchanting and beautiful and it met all of our criteria including mountains, rivers, lakes and a community that would welcome our work. We found office space at Lakepoint Center - directly across from beautiful Evergreen Lake! By May of 1991, construction was complete and we opened our doors for business.
Another major goal for us was to be close to a major city which would give us access to travel and continuing educational opportunities. "Continuing Ed is very important to me beyond my licensure" says Dr. Doug. "I love it because I keep up on all the latest techniques and products so that I can always be providing my patients with state-of-the-art Chiropractic care. It allows me to keep investigating and implementing what works and what is most effective for our patients."
For eighteen years we were located at the Lakepoint Center. Early in 2009 we decided to relocate our office to our home on Upper Bear Creek Road. We continue to provide our patients with comprehensive Chiropractic care, on-site x-ray, therapeutic exercises and stretches, injury rehabilitation as well as orthopedic products and custom foot orthotics.
We feel "hands-on health" accurately describes our friendly and compassionate approach to creating a healing environment where the emphasis is on "caring". At Lakepoint Chiropractic, our goal is to put the "care " back into healthcare!
- Dr. Doug and Marjie Petty, Co-Owners
About Dr. Doug Petty
Undergraduate studies - Southern Utah State College
1989, graduated from Life Chiropractic College - West, with his doctorate of Chiropractic, San Lorenzo, California
Senior Intern Supervisor at Life West's outpatient Clinic supervising all intern treatments and receiving the Award for Clinical Excellence
1988 Board certification from the National Board of Chiropractic Examiners
1989 Board Certification from the Colorado Chiropractic Board
Member of the Colorado Chiropractic Association since 1991

Our Staff
We are supported by a wonderful team at Lakepoint Chiropractic who schedule appointments, perform administrative tasks and can answer many of your questions.