Custom Orthotics by Foot Levelers


Lakepoint Chiropractic carries custom orthotics and footwear by Foot Levelers.

Dr. Doug uses the latest technology to scan your feet. While standing on the scanner and bearing your full weight, a colorized digital image is made of your feet. The scan is then transferred to Foot Levelers' laboratory where the orthotics are custom made to correct any imbalances found in the three arches of each foot. A comprehensive report of findings, detailing your specific condition and recommendations is printed and presented to you as your order is placed. Your new orthotics are sent back to our office so that we may show you how to wear and care for them.
Dr. Doug takes into consideration your lifestyle, age, weight, activity level, and condition when fitting your custom orthotics. As your activities change, so do your shoe styles. And different shoe styles require different orthotics.
Foot Levelers offers an amazingly wide variety of Spinal Pelvic Stabilizers for men's, women's, and children's shoes, as well as styles for dedicated walkers, runners, golfers, skaters - and many others.
They also carry two lines of custom-made footwear - Sandalthotics®, custom-made, quality casual sandals; and Shoethotics®, which include rugged, high-performance casual/work and athletic shoes custom-made to fit Foot Levelers' specifications.
We carry the full line of Foot Levelers custom made orthotics. Pictured are just a few of the choices that are available. You can see all of the available options in our office along with literature on these products.
..........

---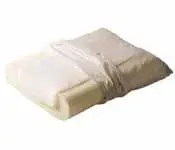 Pillo-Pedic® - Cervical Support Pillows


For whiplash, neck and shoulder problems, tension headaches, etc.
Provides therapeutic traction to help adjustments hold better
Now more durable, more comfortable, lasts longer